Father figures play an important role in empowering the young people in our community.
Since 1956, this award has recognised inspiring father figures who have made a profound and positive impact on the lives of young people.
DNA alone doesn't make a dad and father figures come in all shapes and sizes.
A father figure can be a:
Relative (father, uncle, brother),
Role model (coach, mentor, teacher) or
Community leader (advocate, organiser).
The award is presented by YMCA Victoria (the Y) and is generously supported by the City of Melbourne.
2023 Award Winner
On Friday 1 September, we named Gabriel Carazo as our 67th Victorian Father of the Year.
Gabriel was recognised for creating a community where dads could come together, break free from traditional stereotypes, and forge deeper connections.
Pictured: Gabriel with his wife Andie and their two children.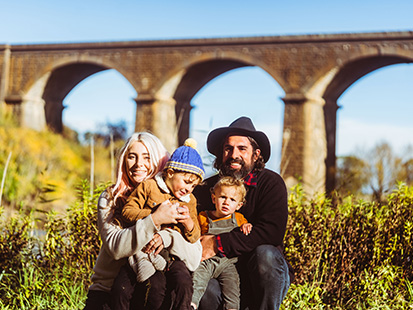 Nominations are now closed for the 2023 Victorian Father of the Year award.
Nominations submissions closed on Tuesday 22 August. We are currently reviewing submissions. Thank you to everyone who submitted nominations on behalf of extraordinary father figures. Explore the stories from past winners below.
Victorian Father of the Year ceremony
The winner of this year's award will be presented by the Lord Mayor Sally Capp at a special ceremony held on Friday 1 September 2023.
Stay in touch
If you have a question, please contact our team.
Ceremony highlights
Our partners City of Melbourne traditionally host our annual award ceremony at Melbourne Town Hall.
The event is hosted by YMCA representatives and the sitting Lord Mayor is invited to announce the award winner.
Virtual ceremonies were held in 2020 and 2021 due to the COVID-19 restrictions in place at the time.
In 2022 we returned to an in-person event. Watch the highlights from this ceremony.
Impact of the award
In July 2022, we caught up with our two recent winners and their families, to discuss their experiences with the award and what it symbolises.
Watch Stephen and Sam's video interviews to learn about the award's impact.
Stephen Curran | 2020 Winner
Sunshine father Stephen Curran received the award for being an inspiring role model and provider for his three children.
Stephen was nominated by his daughter Sarah.
Sam Chew | 2021 Winner
Malaysian-Australian father Sam Chew received the award for showing unwavering dedication to his three young children through grief and the hardships of COVID-19.
Sam was nominated by his close friend Kashmira Bhathena.