Father figures play an important role in empowering the young people in our community.
Since 1956, this award has recognised inspiring father figures who have made a profound and positive impact on the lives of young people.
DNA alone doesn't make a dad and father figures come in all shapes and sizes.
A father figure can be a:
Relative (father, uncle, brother),
Role model (coach, mentor, teacher) or
Community leader (advocate, organiser).
The award is presented by YMCA Victoria (the Y) and is generously supported by the City of Melbourne.
2022 Award Winner
On Friday 2 September, we named Michael te Wierik as our 66th Victorian Father of the Year.
Michael was recognised for providing unconditional love and support to more than 70 foster children for 15 years.
Pictured: Michael with his wife and nominator Fiona.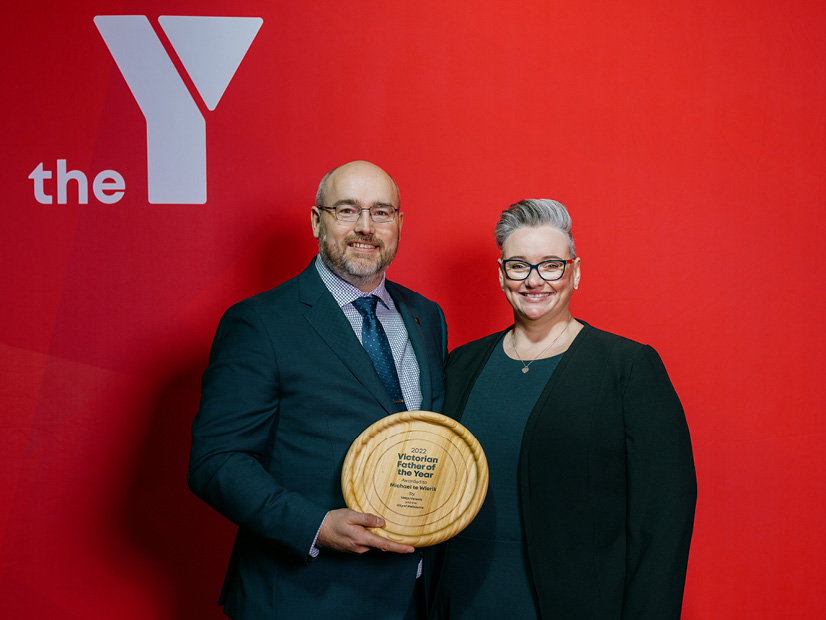 Interested in nominating a father figure in your life?
Nominations for the next award are expected to open in July 2023.
Updates will be posted on YMCA Victoria's Facebook and Instagram pages when nominations open.
Previous Winners
Each year an extraordinary father figure joins a prestigious list of previous award winners.
Historically, the award focused on recognising prominent public figures. The award now celebrates everyday father figures whose extraordinary efforts often go unnoticed.
Pictured (L - R): Terry Mitropoulos (2019, Stephen Curran (2020), Michael te Wierik (2022), Sam Chew (2021), Barry Novy (2002).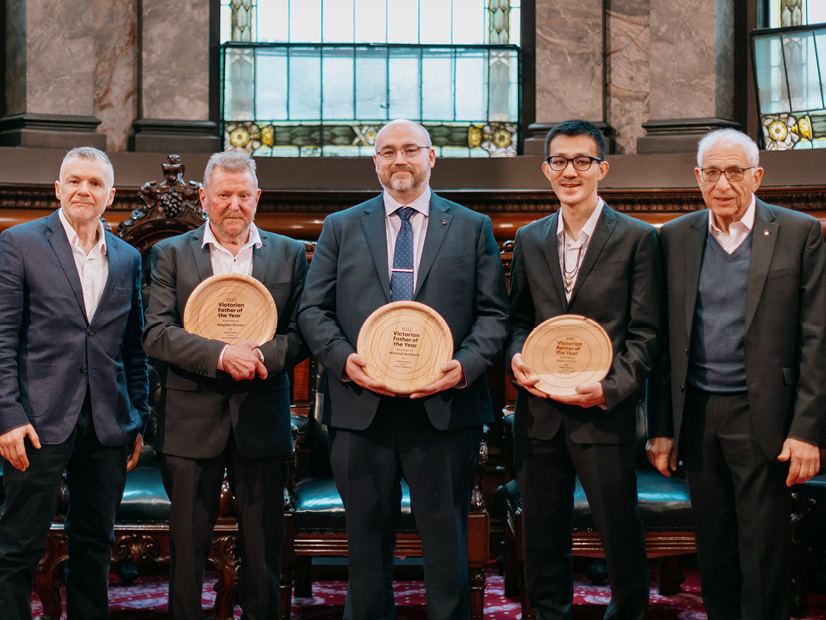 Impact of the award
In July 2022, we caught up with our two recent winners and their families, to discuss their experiences with the award and what it symbolises.
Watch Stephen and Sam's video interviews to learn about the awards impact.
Stephen Curran | 2020 Winner
Sunshine father Stephen Curran received the award for being an inspiring role model and provider for his three children.
Stephen was nominated by his daughter Sarah.
Sam Chew | 2021 Winner
Malaysian-Australian father Sam Chew received the award for showing unwavering dedication to his three young children through grief and the hardships of COVID-19.
Sam was nominated by his close friend Kashmira Bhathena.
History of the award
In 1956, the award was founded by the Victorian Father's Day Council and was managed by a dedicated committee for over 60 years.
In 2006, YMCA Victoria began supporting the governance and promotion of the award, due to its connection with our belief in the power of empowered young people.
The two organisations became so symbiotic that in 2020 it was decided the Victorian Father's Day Council would formally merge into the Y.
Learn more about the awards history.
Award Ceremony
Our partners City of Melbourne traditionally host our annual award ceremony at Melbourne Town Hall.
The event is hosted by YMCA representatives and the sitting Lord Mayor is invited to announce the award winner.
Virtual ceremonies were held in 2020 and 2021 due to the COVID-19 restrictions in place at the time.
In 2022 we returned to an in-person event. Watch the highlights from this ceremony.
Learn more about the award